Black House Ants
Big-Headed ants
Pharoah Ants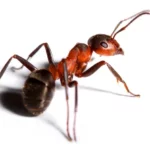 Fire ants
Ants are a group of insects, including black ants, red ants, wooden ants and "flying ants".
Ants are social insects and had about 22,000 species and sub-species.
Most ants consisting of Queen, King, Reproductive, Soldier and Worker.
They come in all shades of black, brown, yellow and red and are nearly blind, depending on the Sensory cells on their antennae for touch and taste.